PROBLEM SOLVED:
How To Revive Your Dry Tattoo Liner
So, against all good advice, we've been reading the comment section. You all are very honest. That's why we love you. Digging into it, we noticed a specific strain of gripe: For some of you, Tattoo Liner isn't performing as promised. Feedback heard loud and clear. Use this guide to revive your Tattoo Liner to tip-top shape.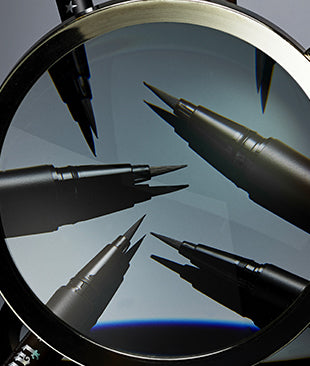 // TIP 1: STORE IT FLAT //
Keep your liner's flow on the level. When you're done drawing, cap the liner and—we can't stress this enough—store it flat. This is probably the most important rule of Tattoo Liner longevity, so don't skip this tip.
// TIP 2: SHAKE TO ACTIVATE //
Before you uncap and create with Tattoo Liner's flexible, needle-precise tip, be sure to shake the pen to activate the formula's flow. Like a street artist with a can of spray paint, you'll hear the rattle of steel ball bearings as you agitate the ink from cartridge to tip.
// TIP 3: WHEN IN DOUBT, WET IT OUT //
If your tip's still skipping, take a damp paper towel and hold it against the tip. Other product like eyeshadows or eye primer may have built up over time, interrupting the ink. Use a paper towel to clear the way.
Shake it up and test the tip on the back of your hand, encouraging the liquid eyeliner ink to flow. 
Get the most out of your Tattoo Liner with these tips + keep creating uninterrupted. If you have any more questions, hit us up.
Email KVD Beauty Customer Service (customerservice@kvdveganbeauty.com) or call 1-844-500-5832. 

Operating hours are 7:00 AM ET - 2:00 AM ET, 7 days a week, excluding holidays.