5 Pieces By Miryam Lumpini For Major Inspiration
Inspo on low? All good. Let us help. Fill up your creative tank + get your ink fix with a tour through select pieces from our resident tattoo muse.
Point blank: Creative ruts suck. But it's all part of the process. The best part, though, is coming across that one piece of art that makes it all jolt into place.
This post is for that moment of sudden inspiration. 
When we're stuck, we look to tattoos. It's why we brought tattoo superstar Miryam Lumpini into the fold. Her pieces go from graphic to intergalactic, all in max-opacity color. Maybe one of them will strike you like lightning. 
Scroll on to see five pieces selected by Miryam. We've also included a selection of high-performance makeup inspired by each piece. Just in case of a creative breakthrough. You never know with the muse.
ALTAR OF ANTLERS
Find yourself lost in mystic woods with this colorful full-back tattoo.
MIRYAM: "My friend wanted a deer with antlers on her back. She is a very whimsical person, which inspired me to add the candle-lit ambiance almost like an altar of roses, mushrooms, crystals and pomegranates to bring some good energy."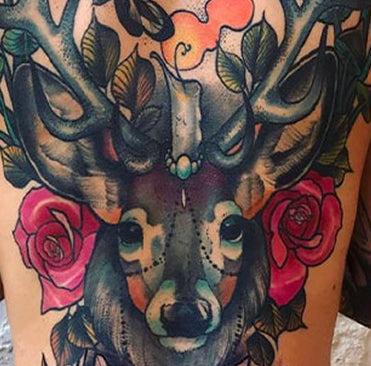 SACRED BY NATURE
A thigh and hip tattoo bursting with color and meaning.
MIRYAM: "A very dear friend of mine in the industry wanted to a peacock with lotus flowers to represent her culture."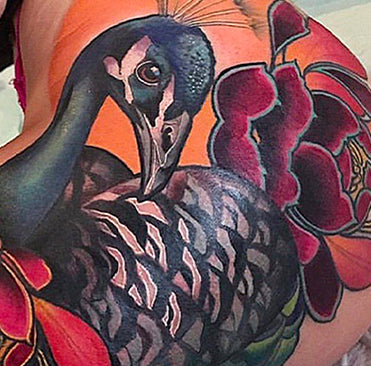 DREAM WILD
The beginnings of a full back tattoo, like a wildflower superbloom in deep space.
MIRYAM: "This client wanted a tiger on her back to cover up an old tattoo, and she requested very dreamy vibes."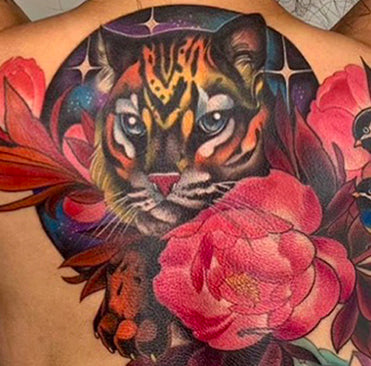 MAIN CHARACTER SYNDROME
Fandom-worthy anime and video game tattoos that bring fantasy heroines to life.
MIRYAM: "A super cool gamer girl wanted her two favorite female characters on each arm. First, we did Pharah from Overwatch, then we did Sailor Moon with a rose from her lover, Tuxedo Mask."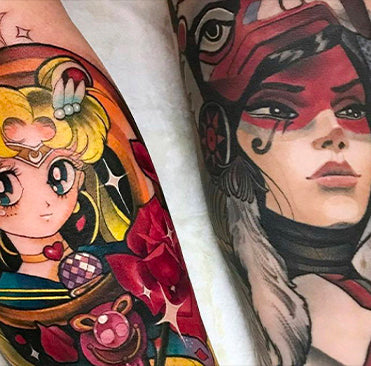 DIVINE DAISIES
Some tattoos don't need significant meaning—the art speaks for itself.
MIRYAM: "This client gave me one prompt: Galactical goddess with daisies."
Feeling inspired yet? Remember to tag us @KVDBEAUTY on your tattoo-inspired looks. We might just shout you out on our feed so your artistry can inspire others. Like the circle of life. And if you haven't already, follow us to keep up with new launches, killer sales and more mind-opening strokes of brilliance.