Foundation tips to avoid looking dry or flakey in fall + winter
Fall and winter are our seasons. We wait all year to be able to pull out our grungy layers, chunky boots and dark academia looks that are just too stifling for warmer weather (not that we don't still try). It's a moody time of year—almost perfect with one slight caveat: dry skin.
Why does skin get dry in the winter? The colder temperatures, along with humidity changes and constant exposure to blasting heaters really wreak havoc on your skin's ability to stay hydrated and balanced. On top of that, heavy layers like beanies, puffer jackets and thermal socks can make you sweat more than you would in summer—sending your skin mixed signals.
What does that mean for your foundation? When it gets cold, makeup can cling to dry patches and emphasize texture that maybe didn't even look noticeable before you put anything on. This doesn't just happen for people with "dry skin types" either. Ever have your foundation dox your acne-picking habits by clinging to dry, healing skin? Or, have you ever had your foundation feel dry while your skin gets oily and breaks up your makeup? While temperatures drop, the performance of your foundation doesn't have to.
Good Apple Foundation is our best foundation for dry skin. It's packed with hydrating and nourishing ingredients that make your skin look and feel fresh like a ripe juicy apple. It has a super creamy texture that meshes with your skin and blurs texture for a skin-smoothing effect.
Can you use Good Apple Foundation for extra dry skin? If your skin is really dry and you want that healthy-looking vegan glow, moisturize and use a hydrating primer before applying Good Apple. Primers and foundations with ingredients like sodium hyaluronate help provide hydration to skin so your skin doesn't look or feel parched. Good Apple Foundation is infused with sodium hyaluronate and apple extract to help hydrate and nourish skin.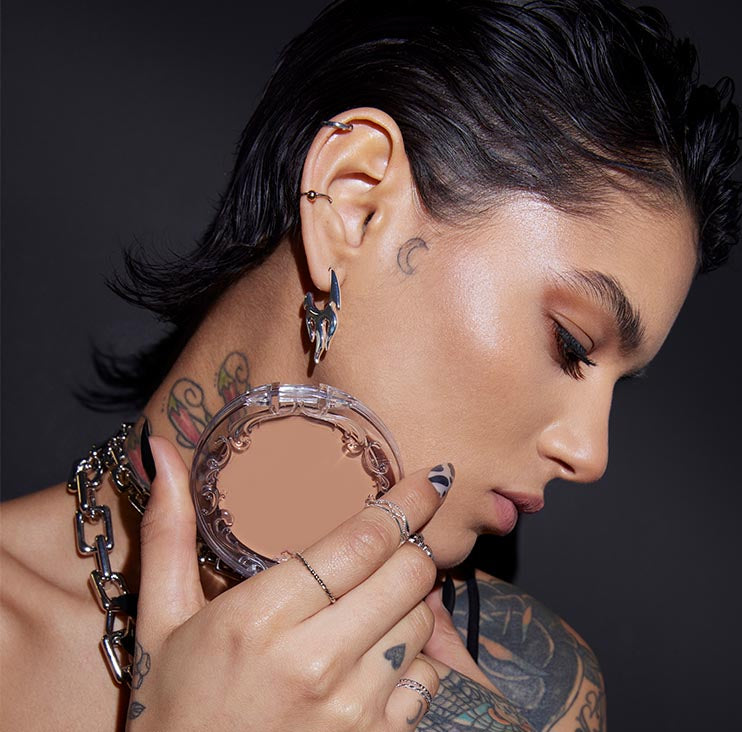 How should I put foundation on when I have dry patches? Start by applying foundation to the zones of your face that are less dry and bounce your sponge to diffuse the balm out in thinner layers over dryer areas. Instead of dragging foundation across your skin with a brush or sponge, we recommend pressing the balm into your skin for more traceless, boosted coverage. To lock in your look and get a boost in hydration, use a setting spray with skincare benefits.
But wait, can you use Good Apple if you have oily skin? Absolutely, and this is why: Good Apple Foundation has a natural matte finish. However, it's not so mattifying to where you feel like all the moisture is being leeched out of your skin. If you have oily skin, we recommend using blotting papers or setting powder to absorb excess surface oil before putting your foundation on. To prevent sweat or oil from breaking up your makeup throughout the day, finish your base with a mattifying setting powder.
Now that you've learned our best winter foundation tips, find your winter shade with our virtual try-on tool and pick up Good Apple Lightweight Full-Coverage Concealer.