How To Use Super Pomade: 3 Unique Ways
Welcome to the multi-color multiverse.
Get familiar with our color-packed one-pot wonder, Super Pomade. They're creamy, super-saturated pigments you can glide anywhere—use as a liner, shadow, for brows + beyond. Plus, they're waterproof and set in for extreme long wear.
Play palette alchemist by mixing up your own custom color stories with 17 shades, from vivid bursts to realistic essentials. Expect kaleidoscopic days ahead.
Here are just three ways to take your Super Pomade.
Take these as starting points. There are no wrong answers here—just infinite possibilities.
GO MONOCHROMATIC
Be a color chameleon. Treat any vivid shade like a brow pomade and take it through your brows with a spoolie, making sure to coat each hair by brushing down, then up. Oh, and be sure your brows are free of product before you begin. A quick swipe with an alcohol pad should take care of that. 
Use a precise angled brush, like our #70 Pomade Brush, to refine the edges of your new color-charged brow.
Apply that same pigment as a cream shadow and liner for a unified, monochromatic moment.
Artistry tip: Fake a peroxide-blonde brow look with Super Pomade shade BLEACH.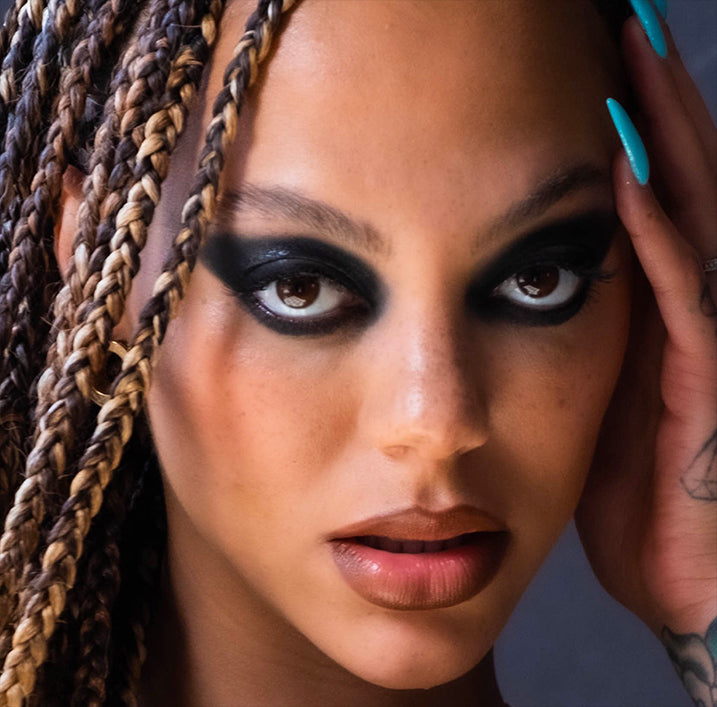 LINE FINE OR GRAPHIC
This one's clear-cut. All you need is a precision-angled brush. Try our #70 Pomade Brush, specifically designed for use with creamy, high-performance pigments.
Use any Super Pomade shade as is or fuse new colors as you see fit. Design and line to your art's desire.
Artistry tip: Stack thin, multi-colored lines for a neo-impressionistic effect.
PAINT IN PASTELS
Play with saturation levels and transform any Super Pomade shade into a modern pastel by mixing in WHITE OUT.
Blend in more shades and endlessly evolve your pastel palette to match all your color-fluid vibes. 
Artistry tip: Create + paint with different pastel shades for a look with a touch of sidewalk-chalk nostalgia.