KVD ARTISTRY STUDIO PRO TIPS HOW TO GET NON-CAKEY FRESH APPLE SKIN WITH GOOD APPLE SERUM FOUNDATION
Listen up, the artistry studio is here to make sure that you get the most out of your Good Apple Serum Foundation. That means, the most buildable coverage (however YOU want it) with the most natural finish. Tools and application methods are critical for achieving fresh apple skin without any crustiness or cakey patches. While Good Apple Serum Foundation was designed for combo to oily skin, it can be used on any skin type. If you've got dry skin but still feel like pores are a concern, keep scrolling.
TIP 1 // MEET YOUR MATCH
Undetectable coverage starts with the right foundation match. With forty shades to choose from, it's likely you'll have some options to pick between. Find your shade family (deep, tan, medium or light) and then find your undertone (warm, cool, neutral or olive). We know finding your undertone can be tricky so we made a little chart to help you figure out the best undertone for you. Still having trouble? Skip the deep dive and head to Virtual Try-On. Head to the Good Apple Serum Foundation page and click on the "TRY IT ON" button at the bottom righthand side of the image. For best results, use the virtual try-on tool in natural lighting with a neutral background and clothing. Don't fret if you accidentally pick up the wrong shade in the end, we do free returns within 30 days.
TIP 2 // MINIMIZE PORES, HYDRATE + PRIME
For ultra-smooth, undetectable full coverage, starting with a good primer is key. Lock-It Pore-Refining Primer maximizes makeup wear and minimizes the look of pores, instantly and over time, to prep your skin for seamless foundation application. Squeeze a pea-size amount onto your finger tips and press into your skin, focusing especially on spots where you want to blur pores. Lock-It will feel refreshing and cooling on skin, delivering all-day hydration that feels breathable.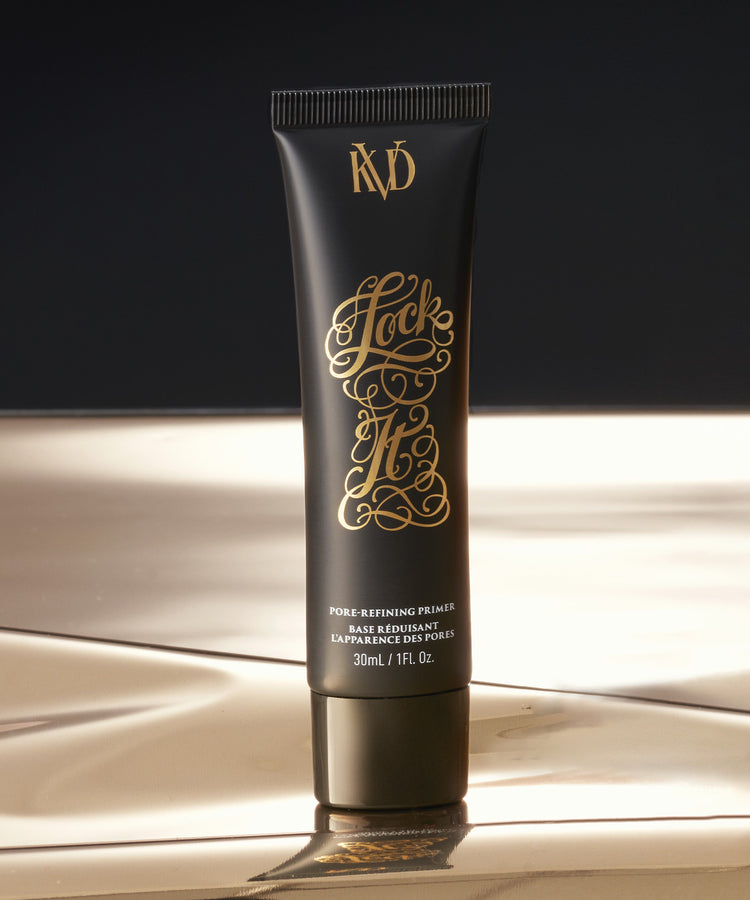 TIP 3 // TAP + BLEND IT IN FOR FRESH, NON-CAKEY SKIN
The best way to apply Good Apple Serum Foundation is to use a sponge and blend by tapping it into your skin. It's all in the blend. A little goes a long way, so you can use one pump to cover your face or two pumps for even fuller coverage. Our pro artists recommend applying in light layers. Use one pump for the first layer, allow it to set and then apply a second layer. For your second layer, focus on areas where you want more coverage. Hit snooze too many times and need a shortcut? It's totally cool if you prefer to use a brush for quicker coverage. If you have the time, finish off with a sponge to make sure everything is even and blended.