Most Common Mistakes to Avoid
When Applying Foundation
When you get in the groove of applying your foundation, you begin to reap the rewards. You start to save time by sticking to what works, leaving more time to play and experiment with your look for the day, and your look lasts all day long with minimal to no touch-ups needed. Basically, you have more time to be creative and personalize your makeup look and coverage. If you're still looking for the best way to apply foundation (or just need a brush-up), read on to learn some of the most common mistakes people make when applying foundation, how to avoid them, and how to ensure you're using the best foundation application techniques. Here are our top 10 foundation mistakes to avoid.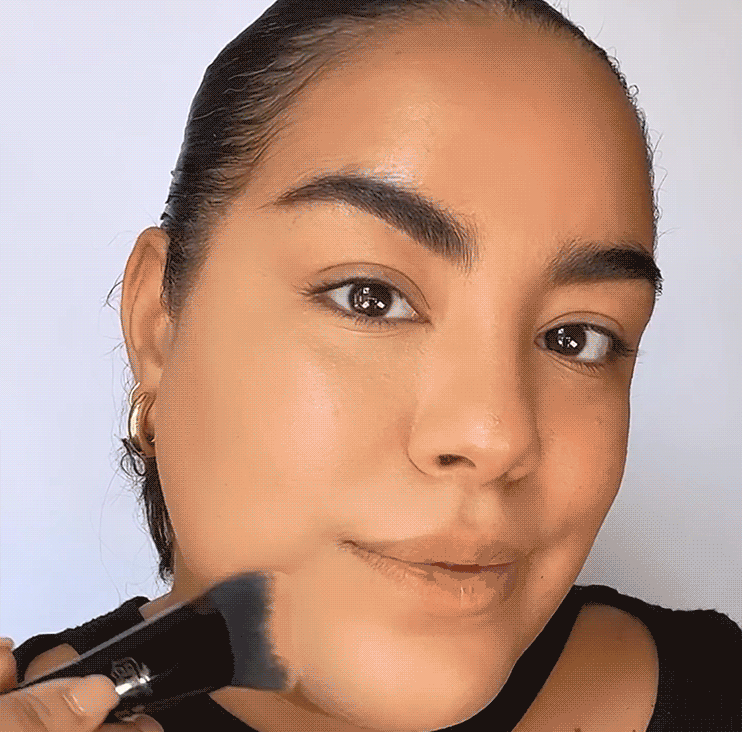 // Mistake #1: Not Prepping Your Skin //
To properly prep skin for foundation, always make sure skin is clean and treated, and in good condition to have foundation applied. Start with cleansing, toning and your other usual skincare routine steps for day or night. Depending on the kind of foundation formula you use (more on that later) SPF can be applied under or on top of it. Skincare prep should never be
skipped, because it sets up your foundation for all-day coverage and top performance.
// Mistake #2: Not Priming Your Skin //
Some people just don't like makeup primers, and that's OK. But you still need to make sure your skin is both prepped and primed for foundation. The difference between priming and prepping skin is that skin primer acts as a protective layer that is essentially the "foundation for your foundation." Primed skin should take to your foundation easily, tacking onto it and keeping it in place. Foundation should not be used neat on the skin if you are looking for the best results, and some products in your skin prep routine may not play as nicely with your first foundation layer as a primer. That's why we love face primers, because it ensures you have that soft, smooth canvas for your foundation to follow.
// Mistake #3: Caking It On //
Too many layers of foundation can cause the product to dry up, separate, and create that cakey look that literally everyone wants to avoid. Cakey makeup is the result of too little moisture and not enough skin prep and priming for the foundation to dry down onto. A good rule of thumb is to wait a few minutes between each layer of foundation, letting it "bake" onto the skin and melt down into the finishing look. That way, you can make the best decision if another layer is truly needed or you just need another round of blending. Don't forget, if you apply pigmented powder on top of your foundation, that counts as another layer of coverage.
// Mistake #4: Choosing the Wrong Finish //
Sure, your favorite foundation looks fantastic as you're putting it on, but what about hours later? If you are needing to re-apply or touch-up your foundation more than you would like to, the wrong foundation finish could be the culprit. Think about it: if you have an oily skin type, do you want to apply liquid foundation that doesn't dry down matte for oil control? If you have dry skin, do you want powder foundation that offers zero moisturization benefits? If you want a dewy finish, do you think you canachieve that with a matte foundation? Considering both the short-and long-term performance and overall finish of your foundation can save your coverage.
// Mistake #5: Using the Wrong Foundation Shade //
If you are not re-assessing your foundation at the turn of every season, it is likely that you are missing out on your idealfoundation shade. To truly know the best color of foundation to match your skin, check your skin out innatural lighting, within a few weeks of colder or warmer weather. You can keep a few different foundation shade levels on-hand, or you can mix shades to get your personalized foundation shade.
// Mistake #6: Applying Concealer Before Foundation //
One of the most common questions makeup artists get is if you should apply concealer before or after foundation. If you apply concealer before your first foundation layer, you are essentially removing the concealer since you have to blend your foundation around. Always apply concealer on top of your foundation, before you set your full look.

// Mistake #7: Choosing the Wrong Formula for Your Skin Type //
If you use a foundation type that doesn't play nicely with your skin, mishaps can occur such as an overly-oily or dry finish, or foundation that melts and moves around throughout the day. If your foundation feels uncomfortable in any way, or you seem to have to reapply too often, you may be using the wrong formula. Once you've identified the right color for your foundation shade, finding the right formula is the next (and equally important) step. The most commonly known foundation formula types include liquid, powder, and sticks. Got dry skin? Go for a hydrating balm or gel. Got oily skin? A powder or mattifying formula can balance you out. Got acne? Go for full coverage that's buildable for days you have breakouts.
Foundation balm such as Good Apple Foundation Balm is a newer, more innovative formula type that is created to be flexiblefor most skin types. It also provides longwear results while looking natural all day long.
// Mistake #8: Not Setting Foundation After Application //
No matter what foundation formula you're using, it can always benefit from a setting step such as powder or makeup veils. Once foundation application is complete, set your skin and makeup with a final layer that locks in all products and maximizes the performance. Lock-It Setting Powder is a fan-favorite that works with all skin tones and types, and is universally compatible with any foundation formula type.
// Mistake #9: You Forget About Your Undertones //
Knowing your skin undertone is essential to getting the best results out of your foundation. Once you've identified your skin as dark, medium, tan, light, or otherwise, consider the undertones such as pink or green. There are some quick tips, tricks and hacks for finding your skin undertones by identifying personal attributes such as whether gold vs. silver jewelry look better on you, or if your veins appear blue or green.
// Mistake #10: Using the Wrong Tools & Application Technique //
Your skin could be prepped and primed for the best foundation formula for your skin type, but that can all go out the window with the wrong application techniques. Make sure you have clean, high-quality makeup brushes, sponges and blenders on-hand for blending your foundation formula the best way. Understanding different application techniques for different results and times of year (such as summer vs. Winter) and when it's OK to use your finger vs. a tool will make all the difference.