Tattoo Day Q+A with Miryam Lumpini
This Tattoo Day, we're going back to our roots. KVD Beauty was hatched in a tattoo studio, where as much art decorated its walls as the bodies of the artists that worked there. To us, tattoos are the ultimate form of self-expression, vulnerability laid down in lionhearted lines and big, bold color. They transform your body into a canvas, asserting your soul as art. Your vision becomes reality, in living, breathing, full color.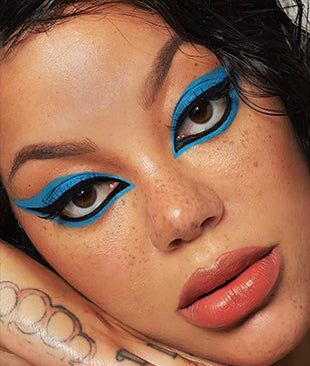 We hold that legacy close as we dash into our next era. See that tattoo studio spirit in our extreme performance, pigment-packed formulas.
And then we met Miryam. Make a venn diagram of makeup and tattoos—Miryam Lumpini lives right in the center, tattoo machine in one hand and Tattoo Liner in the other. Born in Sweden but based in LA, Miryam's spent close to a building a career as a tattoo artist decade and a reputation as a creative for a new generation.
As our Global Director of Tattoo Artistry, Miryam helps keep our legacy as potent + present as a tattoo.
Read on and get familiar. You'll be seeing her a lot more.
When did you know that the tattoo artist's path was for you?
I always felt like I had a lot to express growing up with my single mother in Sweden. She was a teacher in art and language, and she exposed me to a lot of fine culture and gave me access to art materials from a young age!
At 15 I started buying tattoo magazines at kiosks while waiting on my school bus because the intricacy of tattoo artistry and the possibilities of art on skin really fascinated me. It was a type of art form that I had never really explored before. I guess the Sagittarius in me felt a huge urge to go down that path to find a deeper meaning within myself and my own artistry. I also wanted to learn about other cultures and expressions beyond the mainstream.
I knew that it was going to be a very interesting path and that it was not going to be easy.
How are tattoo artistry and makeup artistry connected?
As a young woman, I started drawing my own eyeliner at age 13, and I knew one thing—that eyeliner had to be perfect! Today, I can do my eyeliner in my sleep and I could probably also tattoo in my sleep because I've done it so much.
I think that my early passion for artistry and the fact that I've always been doing my own makeup myself makes me a very good makeup artist. In fact, I have never met a makeup artist who's done my make up better than I do it myself, and I can say this with confidence!
And this is why I think tattoo artist and make up artistry are connected: It's all about learning contrast, highlights, and blending soft shades, sharp lines with a steady hand; and the different qualities, substances and ingredients that we express ourselves with.
You've got a last-minute event to attend but can only use 3 KVD Beauty products to create a look. Go.
If it's a last-minute summer event, I'd use a small touch of Good Apple foundation balm where needed.
Then, I take a highlighter over my cheekbones and up to my eyelids. The final touch: a colorful matte lip with Everlasting Liquid Lipstick.
If it's a last-minute winter event, I'd wear a thin veil of Lock-It Foundation with well-blended contouring using Shade + Light contour palette. Of course, I'd finish with Tattoo liner!