// ALL-NIGHT ALCHEMY //
KVD HALLOWEEN
SHAPESHIFT WITH OUR PICKS FOR SUPERNATURAL PERFORMANCE
BEWITCHED FOR THE SEASON SWITCH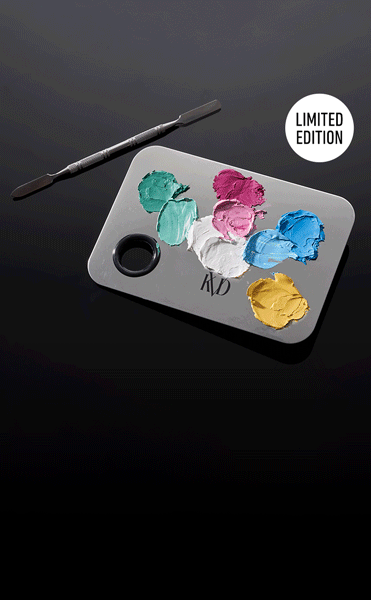 // PIGMENT POTIONS //
FREE MIXING PALETTE
WHEN YOU SHOP KVD HALLOWEEN KITS
MAVEN OF THE MANOR
Whether you're dressing up with your twin flame or feeling like the star of your own noir, this look is for you. Learn how to intensify your features for a striking goth noir look with Connor + Meagan from the KVD Artistry Studio. Find your light + get started.
GRAVE GRIFTER
Transform into your best worst self with KVD Pro Artist Dana. Learn how to recreate the look or adapt Dana's techniques for any high-performance Halloween look.
DOLL WITH A DARK SIDE
This doll gets existential. Watch Maria create a soft goth doll look that's equal parts moody brat + put-together plastic. It may be a look for one night, but it's not a phase.
DEEP SEA SWINDLER
Lure poor unfortunate souls to their doom with 6 makeup kit essentials, including high-performance waterproof pigment. Follow Dana's
demo here.
KVD HALLOWEEN
MEET THE CREATORS
MARIA [SHE/HER]
@MARIABURKEMAKEUP
DANA [SHE/THEY]
@DANACOLEMUA
MEAGAN [SHE/HER]
@MEAGAN.LALL
// PLAY TO SLAY //
KILL YOUR HALLOWEEN LOOK
WITH KVD ARTISTRY STUDIO INSPIRATION, TIPS + TRICKS